Climbing Mt. Kilimanjaro - Machame Route
Stand on the highest point in Africa, Kilimanjaro - 5,895m asl
Trip Adventure Details
Overview
This is probably the most beautiful route up Kilimanjaro. Christened the 'Whiskey Route', climbing and trekking up the mountain has accommation in tents only. The route is most suited for a slightly more adventurous hiker, but is rewarding with a scenic splendor not found on others like the Marangu route. The late afternoon sunsets at Shira are highly photogenic, the misty revelations of Kibo at the great Barranco Wall, the diversity of mountain vegetation and exciting landscapes make this a 'slide show'
The Mt. Kilmanjaro Machame Route Trek is best accomplished by 6 nights on the mountain with an added benefit of proper acclimatization which is most essential for fulfilling climb and greater chance of making it to the summit. The Machame Route takes you high to Lava Tower (4630m) on the 3rd day and brings you down nearly 700m for an overnight at Barranco Camp (3950m). such benefit of successful acclimatization gives you power to make it the crest.
Options for Travel From Nairobi
1. Flight to Kilimanjaro Airport
We book for you a flight to JRO (Kilimanjaro Airport), arrange transfer to your selected hotel. A company representative will travel with you or be on the ground to receive you at the airport in Arusha and assist you to check in to your hotel duly reserved. The lead mountain guide will be waiting for a briefing after you rest.
2. Private 4x4 Drive to Namanga Border
If you choose a drive, our driver together with a team member facilitating your trek will take you to Namanga Border. There, the lead mountain guide with a 4x4 safari vehicle will be waiting to to take you and your team to Moshi Tanzania.
3: Nairobi-Moshi Shuttle
The cheaper option to travel will be to book you in the cross-border shuttle where one of our team members will travel with you to Moshi. The base town for your climb.
Itinerary
Day 1: Moshi, Tanzania
Transfer and booking into your appointed hotel in Moshi for dinner and overnight
Day 2: Machame Camp
Your day starts early with a briefing followed by breakfast and 45 minute drive from Moshi (910m) to Machame Village (1490m). After registering at the gate office, ascent begins at the rain forest almost immediately. There is a strong possiblity of rain here depending on the season. The trail could be muddy and soggy, but you are made ready by your strong boots and rain gear.
You will have a welcome lunch stop about half way and finally reach Machame Camping area in the late afternoon. Your porters will have arrived long before and set camp.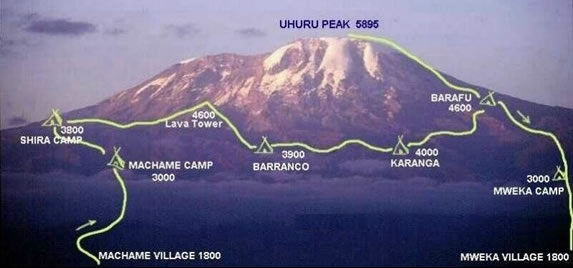 Day 3: Machame Camp to Shira Camp
You wake up early today also and after breakfast climb for one hour or so to the top of the forest and then a gentler 2 hour gradient ascend through the moorland zone. After lunch and a brief rest, you continue up a rocky ridgetonto the Shira Plateau. You are now due west of Kibo and a short hike takes you to Shira Camp at 3840m.
Day 4: Shira Camp to Barranco Camp
The route turns east into a semi-desert and rocky landscape surrounding Lava Tower where you reach an altitude of 4630m after a 5 or so hours trek. Lunch is served in a designated area before ascending the rocky scree path to Lava Tower. This is definitely the toughest day so far. After lunch you descent again by about 700m to the Barranco Camp.
Day 5: Barranco Camp to Barafu Camp
After spending a night at the Great Barranco Wall, you make your way up this awesome looking obstacle, which in the end normally turns out easier that anticipated. Topping out just belowe the Heim Glacier, you now appreciate just how beautiful Kilimanjar really is. The route then heads down through the Karanga Valley over intervening ridges and valley to join up with the Mweka Route trail. Turn left up the ridge and after an hour or so, reach Barafu Camp
Day 6: Barafu Camp / Uhuru Peak / Mweka Camp
Waking up today is 23h30 in the dead of the night, after some tea and biscuits, you shuffle off into the dark with your headlights on. Ascend through heavy scree towards Stella Point (5685m) and stop for a short rest. Your reward now is the sighting of a magnifient sunrise you may not have ever seen before (weather permitting).
From Stella Point, you will normally encounter snow all the way up your 2 hour ascent to Uhuru Peak. You will have summited and have chance make your own celebration drama and take photos of accomplishment. The time you spend up there will depend on the weather conditions.
Day 7: Mweka Camp
Day has come and after breakfast continue descent (3 hours) on a scenic walk down to the park gate. What took you days to climb, is now easier down, with a story to tell. You spend the rest of your day at your hotel in Moshi although we prefer to book you into a hotel in Arusha depending on your means of transport back to Nairobi
Day 8: Nairobi
Depending on your choice means of transport, you will be in Nairobi today and duly booked into an overnight hotel
Price Guide
Included in this Trek :
Quality, waterproof, four-season private mountain sleeping tents
Professional, experienced, mountain guides:
All Park fees & Rescue fees
All meals while on the Mountain
Guides, Porters, cook salaries and park fees
Quality Mess tents with table and chairs
Large portions of fresh, healthy nutritious food
Clean, purified drinking water
Oximeter
Medical Kit
Emergency oxygen
Crisis management and safety procedures
Fair and ethical treatment of porters
Accommodation in Moshi & Arusha
Air Rescue
Items not included in the Trek:
Climbing gear and equipment not mentioned above
Flights and transfers from Nairobi
Alcoholic and soft drinks
Visa fees
Tips Personal spending monies for souvenirs etc.
Travel insurance
Get in touch - Enquiry Form
Use the button below to access an email form to give your travel consultant more details for the best for this safari package. You may also schedule a WhatsApp chat or communicate to us your preferred quick contact method using the "Remarks" section of the form.